General Manager
Managers
Sales
Service
Zachary Watson
Assistant Service Manager
We love our customers here at Gengras! They're great and the bike are even better!
Scott Sullivan
Service Advisor
Mark Taylor
Master Technician - Foreman
It's been a childhood dream to work on the best bikes made!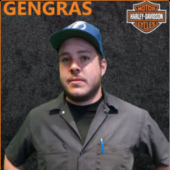 Matt Lippincott
Master Technician
I love motorcyles and I love working on them!
Lance Edmonds
Expert Technician
I love repairing bikes and getting the riders back on the road!
Demetri Prezas
Technnician
Working for Harley-Davidson is the best job around!
Evan Moylan
Hourly Technician
Parts
Phil Abherve
Parts Advisor
Marco LaCaprucia
Parts Advisor
Steve Pompa
Parts Shipper/Receiver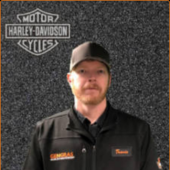 Travis Misiek
Parts to Service Liaison
Motorclothes
Brianna Levy
Motorclothes Associate
Lawrie James
Motorclothes Associate
Office
Hannah Gavin
Office manager
I have worked in the Harley industry for 10 years and have worked for Gengras HD for 5 years! I have my motorcycle license but prefer to ride as a passenger with my husband on his 2013 FXDWG!
Sophia Portal
Marketing and Event Coordinator
I have been working for Harley since 2014 and have been around Harley's practically my whole life. I also ride a 2016 Slim S and love it!